Sometimes your usual night time routine is completely impossible, and you find yourself trying to fall asleep in a chair. This may be because you are being forced to catch a few hours' sleep in the office, because you are in an environment where you are exhausted but haven't got a bed available (such as visiting someone in hospital), or you are simply having a bad night's sleep and need to sleep in a chair so as not to disturb your partner.
Whatever your reason for sleeping in a chair, this article will show you how to fall asleep and what you can do to make it your night sleeping upright more comfortable.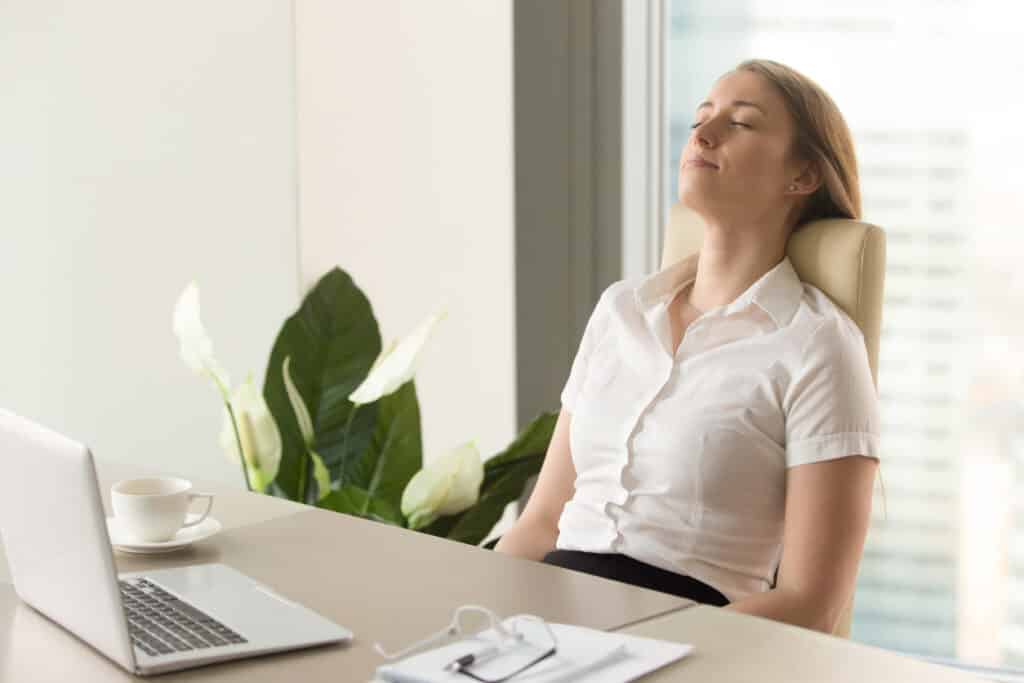 Is it OK to sleep in a chair?
Yes, it is quite OK to sleep in a chair in the short term. You are unlikely to do yourself any major harm by sleeping in a chair every now and again. But, you might find it really uncomfortable and eventually get aches and pains in your neck, shoulders and back.
Is it bad to sleep in a chair for several nights in a row?
Sleeping in a chair can be uncomfortable, and it's not ideal to do it for long periods of time. This is because it can lead to neck pain, muscle cramps (especially leg cramps), and generally poor sleep quality. If you find yourself in a situation where you need to sleep in a chair, try to make it as comfortable as possible by following the tips below.
How to sleep in a chair
1. Make sure the chair is comfortable:
Get a chair that is soft and supportive, with a good backrest. If you can, recline the chair slightly so that your head and neck are supported.
2. Use a pillow:
Place a pillow or cushion behind your neck and head to help keep your spine in a natural position. You can also use a pillow under your knees to keep them from being pushed up towards you chest. If you don't have a pillow, use a rolled up jacket or jumper to emulate a soft pillow.
3. Keep warm:
It is more difficult for your body to regulate its temperature and maintain heat when sleeping in a chair than it is when lying down on a bed. Make sure you dress warmly – don't be tempted to increase the room temperature, as this will only make you too warm in your clothes.
4. Keep moving:
Try not to sleep in the same position for hours on end. Instead, move around frequently and stretch your legs (without getting up). If you're using a cushion, move it around so that each part of your body gets some support.
5. Get comfortable:
Do all you can to make yourself comfortable – use a blanket or duvet if the temperature is cold; adjust the chair and bedding until you find a position that feels like it's supporting your body as well as possible; etc.
6. Drink water:
Drinking fluids will help prevent discomfort due to dehydration and also helps prevent muscle cramps.
7. Don't make it a regular thing:
Try not to make a habit out of sleeping in a chair – it can be bad for your health and makes you feel groggy the next day, as well as affecting your sleep at night.
Best sleep position for sleeping in a chair
Sleeping in a chair generally means trying to get to sleep upright, which can often be tricky. Sleeping sitting down is possible, but it can involve using some props to help get comfortable.
If you can, recline the seat or lean back in the chair. You want to create an angle of around 45 degrees, if at all possible. You can use a cushion behind your lower back to support you as you lean back.
The next thing to do is to elevate your feet. This can be achieved by placing a box or other item in front of the chair. To increase your comfort, place a cushion or blanket between your feet and the box.
If the chair has a high back, use a pillow to support your neck either directly behind your head, or between your shoulder and your head (and lean your neck into it).
How do you sleep on a dining room chair?
It goes without saying that a dining room chair is not designed to be slept in.
If you have absolutely no choice, the easiest way to get to sleep on a dining room chair is to sit on the chair in front of a table, fold your arms in front of your body, then lean forward (lifting your still-folded arms) until your arms are resting on your table and then rest your head on your arms.
This position only really works for a quick nap, as it can be uncomfortable for long periods.
Can you sleep in an office chair?
Most office chairs don't offer enough support to allow you to sleep in them for long periods. If you only have an office chair and need to get a quick sleep in an emergency, using the dining room chair technique above will work.
How do you sleep on a gaming chair?
Some gaming chairs allow you to recline enough that sleeping for longer periods of time is possible. If you can, get a pillow to provide extra support for your neck and try to shift your position regularly throughout the night.
How do you sleep in a recliner?
Some people find sleeping in a recliner more comfortable than sleeping in a bed. You can generally get to sleep sitting in a recliner more easily than on other forms of chair, such as an office chair.
The advantage of a recliner is that the depth and angle of the seat can be adjusted to provide support where it's needed.
While sleeping in a recliner might not be as comfortable as sleeping in your bed, some people find that they sleep better because they're less likely to wake up due to discomfort or pain.
The best way to sleep in a recliner, if you can, is to treat it as close as possible to a normal bed. That means using a pillow and blanket if you can. Making a triangle with pillows or cushions can be helpful to stop your head rolling too far to the side in a semi-upright position.
Also, note that if you tend to snore and the recliner tilts all the way back, you may snore more than usual as you will be pretty much stuck sleeping in one position on your back all night.
Are recliners good for your back?
Generally speaking, recliners are better for your back than upright chairs. However, because they can place strain through your lower back, it is important to find a recliner with good lumbar support.
How can I make my chair sleep more comfortable?
Trying to get to sleep on a chair can be very challenging.
It is all about finding what position you find most comfortable and sticking with that. If you find that you fall asleep in one particular position every time then only alter the position when your body tells you it needs to (if at all).
How do I get comfy?
The secret to sleeping anywhere is finding a comfortable position. Many people are able to get comfy in the chair by sitting back in it, resting their head against the back of the chair, curling up into a ball or putting their legs on something (such as an ottoman or footstool). However, for others none of these positions work. If you are having difficulties getting comfortable in your chair, think about what position you find most comfortable when you are sitting on the sofa at home watching TV. Is it legs up on something? Lying down with your head resting against the arm of the sofa? Curled up into a ball? Whatever it is that feels comfy, then do that in your chair. If you are worried about getting cramp in your legs, then put a pillow between your knees to alleviate cramping. Simply experiment until you find something that works for you.
What if I still can't sleep?
If you are finding it difficult to fall asleep even when you have experimented with different positions, you can try some ways to relax. You can do simple relaxation exercises, or meditate for half an hour or so before you go to bed (see this page ). Another technique that you may find useful is visualisation. Simply close your eyes and imagine yourself somewhere relaxing (eg on a tropical beach). Imagine all the sights, sounds and smells that go along with this place, and allow yourself to drift off into a peaceful sleep.
Improve your sleep environment
Although you may find it dificult to get to sleep on a chair, making the rest of your sleeping environment as conducive to sleep as possible will help you get a good night's rest.
For example, if the room is not dark you might use a sleeping eye mask to block out the light. Similarly, if the room is noisy you could benefit from some white noise played through your phone or a white noise device.
Compression socks
If you know you are going to be sleeping upright, you might want to wear compression socks as this will prevent your legs swelling during the night and aid in blood circulation. However, you shouldn't normally wear compression socks at night if you will be sleeping lying down [see article].
Keep to your usual pre-sleep routine
Keeping as much of your usual evening routine will also help, such as having a warm drink, taking a warm bath or shower, reading or listening to soothing music. Make sleeping in a chair feel as close to your normal bed-time process as possible and you are likely to fall asleep quicker.
Invest in a travel pillow or inflatable mattress
If you are still struggling to sleep in a chair, then it might be worth considering investing in a travel pillow or even a camping mattress. A neck pillow can be bought quite cheaply from most good outdoor stores and will make sleeping in a chair a lot more comfortable. For a camping mattress, you can simply use an inflatable air mattress, put it on the floor and make up your usual sleeping position over this.
If you are sleeping on a chair because you only have one twin bed for two people, read our post on how to sleep in a twin bed with a partner.
Conclusion: How to sleep in a chair
In this blog post, we've explored the most common ways to sleep in a chair. Whether you want to try some relaxation exercises or use visualisation techniques to fall asleep, there is something here for everyone! In addition, make sure that your room has a comfortable sleeping environment and stick with your regular bedtime routine as much as possible – it will help you get a good night's rest. And if none of these tips work? Investing in travel pillows or inflatable mattresses may be worth considering because they can really improve how comfy you feel when trying to sleep outside of your normal bed.