There are many bed linen fabrics to choose from, but cotton bed linen is one of the most popular. This is because it has a number of benefits that make it an excellent choice for bedding.
When it comes to bedding, there are a number of different materials to choose from. However, if you're looking for something that is soft, comfortable and has a number of other benefits, then bed linen made from cotton is an excellent choice.
The characteristics of bed linen made from cotton make it perfectly suited to sleeping on. Cotton bedding is natural, which makes it sustainable and kind on the environment. It also breaths well, making it perfect for use in warm climates or during times when you sleep with the windows open. Plus, cotton bedding can be easily washed so it lasts longer than other types of bedding materials.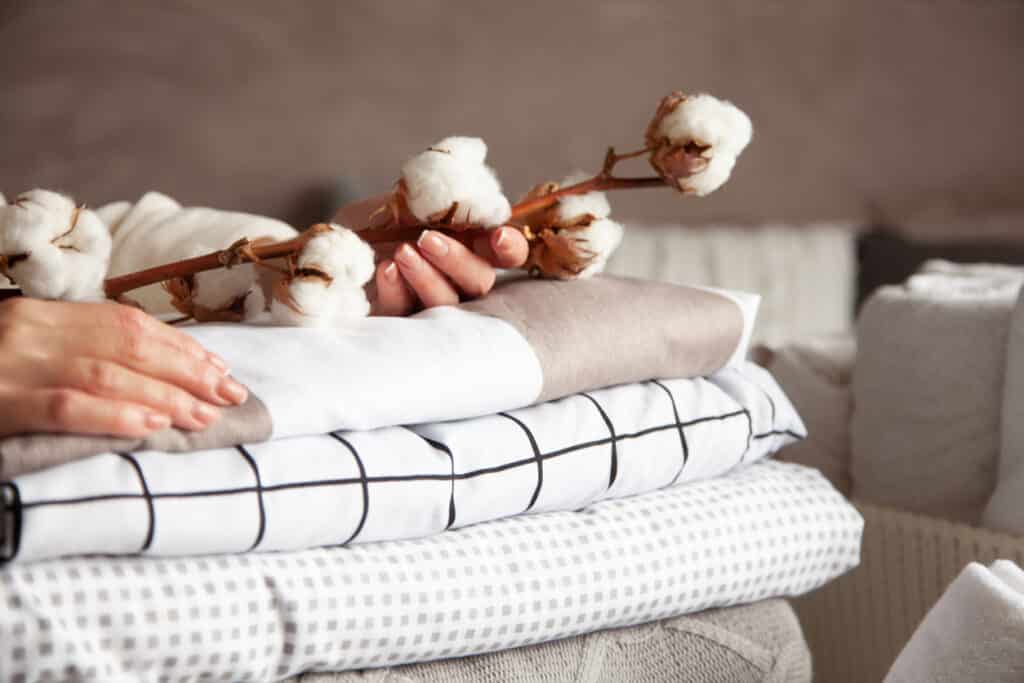 What are the benefits of bedding made from cotton?
There are many advantages of bedding made from cotton over other types of materials
1. Natural and sustainable
Cotton is a natural fiber made from the seed pod of the cotton plant. Cotton fiber is a soft fluffy hair-like substance which wraps around the seeds of the cotton plant. These cotton fibers are then spun into yarn and woven to create the cotton fabric we all know. This makes it a sustainable and environmentally friendly fabric which is kind on nature and does not involve excessive processing.
Read also: Can bed sheets go in the recycle bin?
2. Breathable
Cotton bed sheets are breathable, unlike other materials like polyester bedsheets which make you feel stuffy and warm when sleeping. Cotton bed sheets allow for airflow so you can sleep comfortably in a warm climate and you won't wake up with that nasty 'sticky' feeling. Cotton sheets will also reduce the chance that your bedding feels damp when you get into bed.
3. Soft and comfortable
Cotton bed sheets are soft and comfortable so you can sleep in them without any irritation or discomfort. Cotton is also absorbent and moisture wicking so it can soak up sweat and moisture during the night, keeping you cool and fresh.
Read also: Are bamboo sheets cooling?
4. Durable
Cotton is a versatile and durable fabric so its use for sheets makes them strong so they last a long time without wearing out or becoming stretched over time. This makes cotton bedding more cost effective than other fabrics like polyester bed sheets which can wear down after a few washes.
5. Washable at high temperatures
You can wash cotton bed sheets at high temperatures without worrying about shrinkage or colour bleeding. This is particularly good to ensure that no bacteria or bugs survive after your regular wash.
6. Hypoallergenic
Cotton bed sheets are hypoallergenic so they are perfect for people who have sensitive skin. It is unlikely to cause allergic reactions or irritations which you get with some other bedding types like duvets made from down or silk bedsheets.
What kind of cotton is used for bedsheets?
Cotton bedding is made from cotton fabric which has different thread counts. When the thread count for bed linen goes up, the bed sheet becomes stronger and less likely to tear or get damaged. This means that high thread bed sheets are perfect for people who require bedding with a robust construction like athletes or people with active lifestyles.
There are a number of different types of cotton bedding to choose from. Here are some of the bed sheets you might like to consider:
Flannelette bed sheets:
Flannelette bed linen is a type of bed sheet made from cotton and flannel. The fabric has a soft sherpa-like texture and provides good warmth for cold climates. It's also is hypoallergenic and can be machine washed.
This type of bed linen is great if you like to keep snuggly in bed, but don't choose it if you live in a hot climate as it is designed to provide extra warmth.
Egyptian cotton bed sheets:
Egyptian cotton bedding is made from the finest type of cotton in the world. It has long, strong fibres which makes it soft and weigh for bed linen. Plus, it is durable so it lasts longer than other bed sheets made from cotton.
Pima cotton bed sheets:
If you are looking for a real luxury fabric for your bedding, choose pima cotton. This is a soft fabric which is made from long staple cotton fibers. The extra length of the fibers gives a super soft texture which you won't get from regular cotton.
Ranforce cotton bed sheets:
You probably will have heard of Egyptian cotton, but did you know that Turkish cotton (called ranforce) is the second best type of cotton in the world? Well, bedding made from ranforce is durable and strong so it's ideal for people who want bedding that lasts.
This type of bed linen is comfortable and soft so you can sleep easily on it without worrying about irritating your skin. It also comes in a wide variety of colors and prints.
Ranforce is a great alternative to Egyptian cotton and is usually a bit cheaper too.
Percale bed sheets:
Percale bed linen is a simple bed sheet made from cotton with a thread count of 200 or higher. The percale refers to the type of weave of the fabric which is close and extra strong. It is extremely durable and breathable, making it perfect as bedding on its own. It's also easy to care for as you can simply wash it at high temperatures without worrying about shrinkage or colour bleeding.
Cotton satin bed sheets:
Cotton satin has a different weave from percale and essentially is a looser weave which gives a slippy, silky feel to the sheets. This gives a more luxurious feel to your sheets, but they are slightly less durable and should be washed at lower temperatures.
If you want cotton bed sheets with easy care features, percale bed linen will probably be your choice. It's extremely durable and breathable so you don't need to worry about it irritating your skin or losing its shape after washing.
When should I use bed linen made from cotton?
The characteristics of cotton bedding make it ideal for any time of year, especially if you live in a hot climate. Cotton bed sheets are soft and comfortable so they feel great against the skin, even when it's warm. Plus, cotton bed sheets are breathable which means you don't get that sticky feeling you get with other bedding like duvets made from synthetic materials.
If you live in a climate which is highly seasonal, go for a flannelette bedding set in winter and swap to a percale weave for the rest of the year.
Alternatives to cotton bed sheets
As with all purchases, it's important to choose bedding that's suitable for your needs.
If you don't like the feel of cotton sheets, there are some other bed sheet materials which are just as breathable and soft.
| | |
| --- | --- |
| Material | Benefits |
| Linen sheets | Warm in winter, cool in summer, natural fiber fabric |
| Bamboo bed linen | Hypoallergenic, breathable, good for sensitive skin |
| Polyester bed linen | Durable, machine washable |
| Rayon bed linen | Luxurious, extremely soft feel against skin |
| Silk sheets | Soft with a high sheen |
| Cotton bed linen | Breathable, good for hot climates, durable, sustainable |
Types of bed linen and benefits
Read also: do silk pillowcases make you sweat?
Read also: Microfiber vs jersey sheets
Conclusion: the charcteristics of bed linen made from cotton
Cotton bedding is extremely versatile and ideal for hot climates as it's breathable. Plus, cotton bed linen is soft and durable making it a great choice as bed sheets on its own or as part of a bedding set.