Your mattress, no matter how comfortable it is, won't support you properly if you're not using the right type of foundation. Slatted bed base and plywood are two common types of bed foundation that you can use.
Bed slats are made of long wooden or metallic planks that sit inside a bed frame. Whereas, plywood foundation is made from multiple thin sheets of wood glued together and makes a solid structured bed base.
If you can't decide between a slatted bed base and plywood, read this article carefully. It'll help you decide which bed foundation type is a better option for you based on your requirements.
Read also: Why do we sleep on raised beds?
What is a Slatted Bed Base?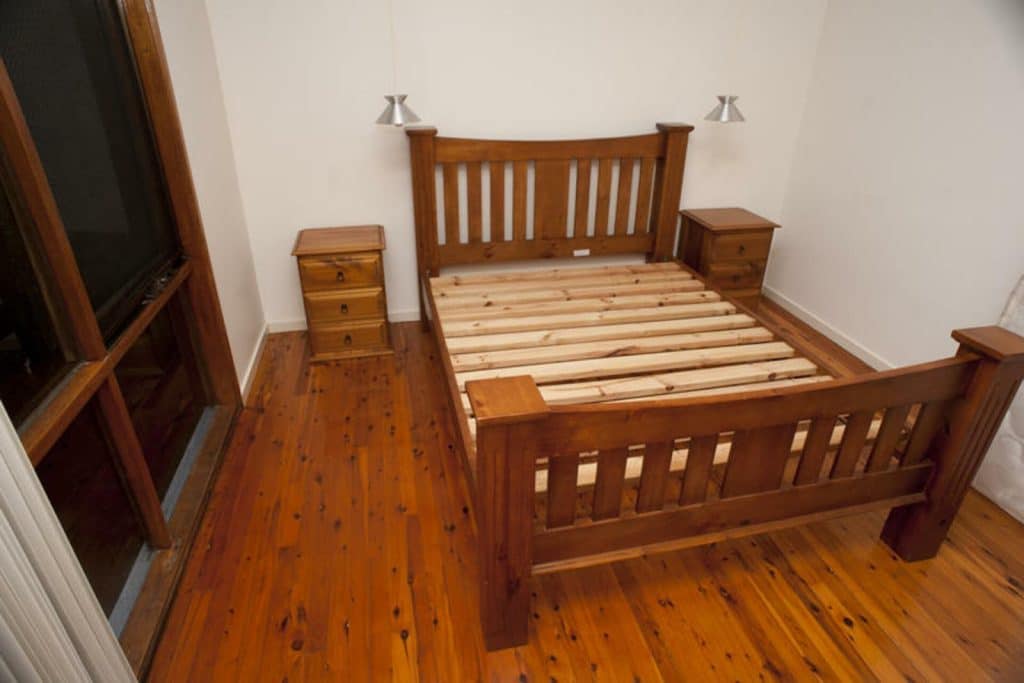 A slatted bed base is made of long planks made of metal or wood. These slats are usually spaced about 2 to 2.75 inches apart and are secured to the side of the foundation or bed frame. You also don't need to buy a separate box spring with this type of bed base.
The best thing about slatted bed frames is that they can adapt to a different amount of weight that you place on them. It'll allow them to offer enhanced support to your back area and keep your weight evenly distributed.
They also offer better ventilation than plywood to improve airflow and prevent heat retention.
Read also: Benefits of sleeping on a charpai bed.
Pros of Slatted Bed Base
Here's a list of benefits that the slatted bed base offers.
As mentioned, the slats of a slatted bed base are made of wood or metal. They're usually lightweight and easy to assemble and disassemble.
This type of bed base is more durable than plywood and offers much more support for your mattress to keep it from sliding.
Not only are these bed bases more convenient and comfortable than plywood but they're also more supportive and affordable than box springs.
Cons of Slatted Bed Base
Although slatted bed bases offer many benefits, they have their own downsides as well that you need to know.
You can't use this type of bed base for all types of mattresses. For example, this bed base type won't be able to support all areas of a solid memory foam mattress properly.
A slatted bed base can affect the quality and lifespan of your mattress. It happens because of the high probability of memory foam pushing into the spaces between slats.
Slatted bed bases are usually more expensive than plywood.
What is a Plywood Bed Base?
Plywood is made of thin sheets of wood that are joined together with glue. A bed base made of this material supports all areas of your mattress evenly.
It's important to note that plywood sheets are available in different grades. The grade of the plywood shows the number of layers and the stability and thickness of the wood used.
However, the specifications of plywood don't always clarify the grade, which makes it difficult to predict how sturdy your plywood bed base will be.
Generally, you should choose plywood that comes with at least 19mm of thickness for a standard eight to 14 inches thick mattress. 
If you have an even thicker mattress, consider going with 30mm or even 40mm thick plywood so that it can support the mattress properly.
Pros of Plywood Bed Base
A plywood solid wooden base offers a range of benefits including the following.
It offers even support to all areas of your bed or mattress and offers a firm feel.
Because this bed base type is made of plywood, it's less susceptible to warping, shrinking, and cracking.
You can easily paint a plywood bed base to customize your bed foundation as desired.
Cons of Plywood Bed Base
There are also some disadvantages of a plywood bed base that you must consider before making your final decision.
A plywood platform bed can make your mattress too firm because of its structure.
Your mattress will tend to slide as the plywood bed base doesn't have gaps to resist movement.
Plywood is less durable and can easily get splintered during transportation.
Slatted Bed Base vs Plywood: Which Bed Foundation Should You Use?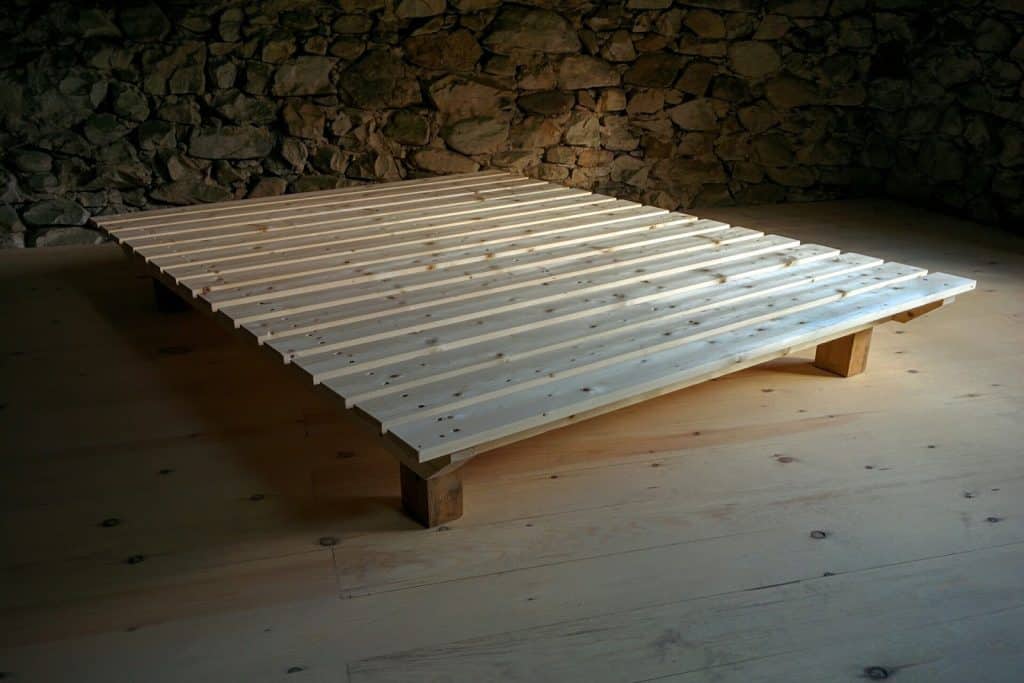 The type of mattress you want to use is the most important factor to consider while selecting a bed base type. Generally, you should use a plywood bed base for a firmer mattress, especially if it'll be used for heavy people.
On the other hand, slatted bed-based work well for thinner and softer mattresses. For example, if you have a dense foam mattress, then a bed base with a solid structure, such as plywood, will suit you better.
Whereas, bed foundations featuring a slatted structure lend well to a latex mattress or a spring bases mattress. Choosing the right type of bed base will allow you to enjoy a more comfortable sleeping experience and prolong the lifespan of your mattress.
FAQs
What Slat Size Should You Use for a Twin Bed?
A twin mattress has a width of 38 inches and a length of 75 inches. So, you'll need to use slats that are at least 40 inches long to make the bed base. The extra couple of inches will allow you to manage your bedding conveniently.
Can You Replace Bed Slats with Plywood?
Yes, you can replace your bed slats with plywood. This option comes in handy when you have an old mattress that has started sagging. A plywood bed base will support it evenly and provide you with a firm surface without dents to sleep comfortably.
How Do Plywood and Slatted Bed Bases Affect Your Sleeping Experience?
It's important to note that these two types of bed bases will affect the sleeping experience of different people differently. For example, heavy people find a plywood bed base more comfortable than a slatted bed base. So, we recommend you try these bases in a store to choose the correct bed foundation for yourself.
Conclusion: Slatted Bed Base vs Plywood
While a new mattress can provide you with more restful and deeper sleep, it can ruin your overall experience if you pair it with an incorrect bed base. Not only will it cause back pains and stiff muscles and joints but it can also shorten the lifespan of your mattress.
We hope this guide will help you determine whether you need a slatted or plywood bed base depending on your unique needs.