Can bamboo pillows be washed? Yes, the outside layer of bamboo pillows can be washed by hand or using a gentle detergent. With any bamboo fabric, the only thing you need to avoid while washing is heat since it can damage the bamboo fibers. Washing the inside of a bamboo pillow is more difficult and depends on the type of filling. Read on for more info.
Having to sleep on a smelly and unclean pillow is not only disgusting, but is also an invitation to germs and other harmful bacteria. To make sure your pillow stays clean and germ free, it is important to wash it on a regular basis. 
In this article, we will be sharing everything you should know about washing bamboo pillows along with some bonus tips! So let's get into it. 
How Bamboo Pillows Differ from Normal Pillows? 
A bamboo pillow is essentially a memory foam pillow with pillowcases made of bamboo instead of cotton or polyester. Because they are made of good quality material, these pillows are more expensive as well. However, unlike normal sleeping pillows:
Bamboo pillows don't let heat build up in your pillow. This keeps the pillow cool, giving you a comfortable sleeping experience. 
Bamboo pillows are made of environmentally friendly material.
Bamboo pillows are produced using special lightweight fiber which makes them breathable and light. 
Bamboo pillows are naturally anti-bacterial. 
Bamboo pillows are perfectly suited for individuals with respiratory issues or bronchial allergies.
Bamboo can smell better than other pillows, and don't have the smell of latex pillows. 
Read also: Can you wash a cooling pillow?
How to Wash Bamboo Pillows?
You will want to wash your pillows regularly, especially if your pillow starts turning yellow. When washing bamboo pillows, always begin by separating the pillow cover from the filling before you begin. This is because the two components of the pillow require different cleaning procedures. 
Given below is an easy guide for the washing process: 
Bamboo Pillow Cover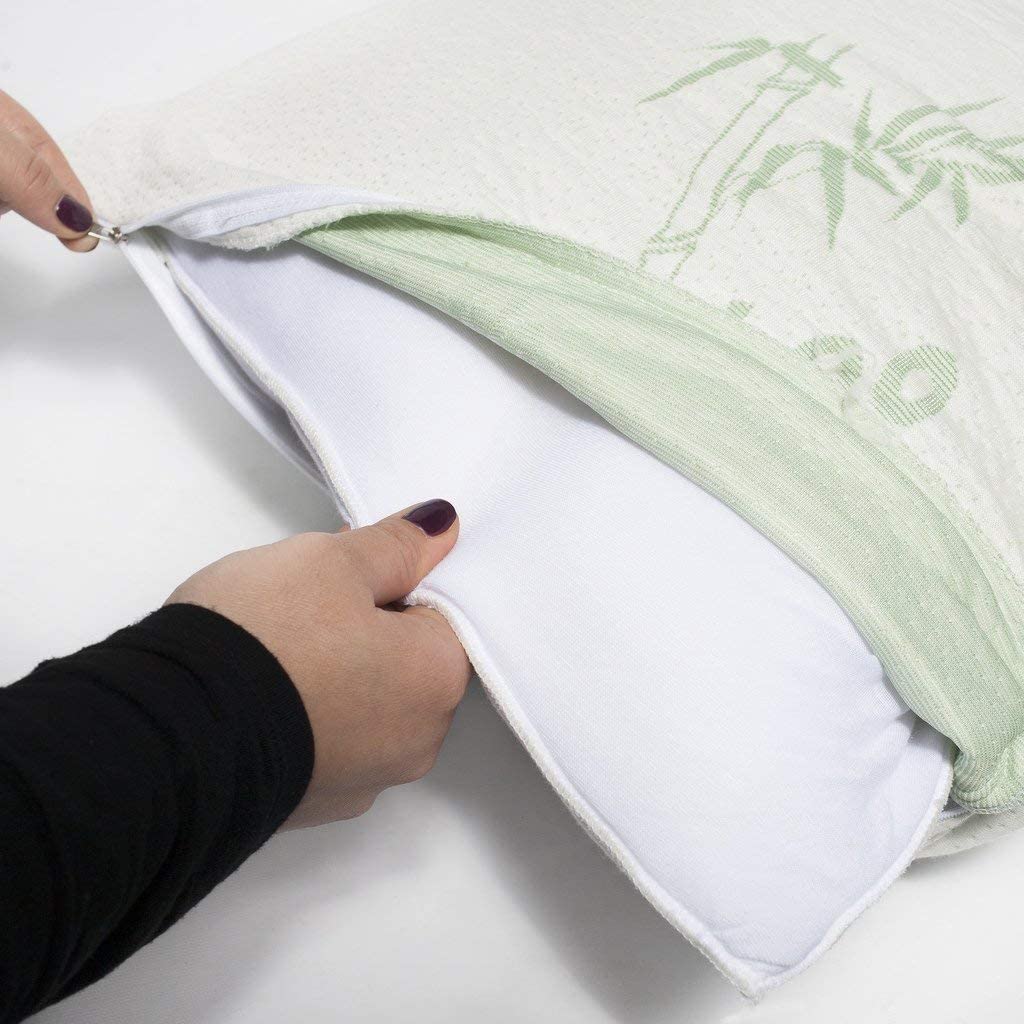 The outer cover of the bamboo pillow is removable and thus, one can easily wash it in a washing machine or by hand. Make sure you wash it in cool/lukewarm water only, as heat can rupture the fabric beads and cause it to shrink. 
Always use a mild or gentle detergent and try to wash your pillow cover separately and not with other clothes, towels or anything with a zipper.
Pillow Filling 
You shouldn't wash a memory foam pillow, which is normally the core of a bamboo pillow, unless you really have to. Make sure to use a pillowcase on your memory foam pillow to reduce the amount of washes.
If you do need to clean the actual pillow, try spot cleaning first.
The memory foam used in bamboo pillows can be either in solid or in shredded form. To wash the solid memory foam filling, take a mild detergent (without bleach) and dip it in half a bucket of cold water. 
Let the filling soak the water for about 15 minutes. 
Once that's done, take out the filling and squeeze it like a sponge to get rid of the water and rinse it with warm water until the detergent is out completely. The last step is to leave your pillow filling to dry. 
As for shredded memory foam pillows, machine washing them in a gentle cycle is a good idea. If you want to lower the drying time, you can wring out the foam pieces separately before you put the pillow in the drier. 
Pro Tip: Add a few tennis balls wrapped within socks along with your pillow when machine washing it. This brings down the drying time significantly. 
You can also read our full guide on how to was a memory foam pillow.
Removing Tough Stains 
For some particularly bad stains that won't go, spot-cleaning your pillow is what will help you. For this, first we need to loosen the dirt particles stuck over the affected area. You can do this by rubbing it with a damp cloth. Then, take a thin cloth and dip it in a solution of three parts detergent & 1 part water. 
Rub this gently over the dirty area till the dirt wears off. If you don't see any changes, you can also use a stain remover. Then leave your pillow on the drying rack for a while and you are done. 
Why go for Bamboo Pillows?  
You must be wondering why bamboo pillows are getting trendy day by day. Well it's nothing but the astonishing advantages it offers. Afterall, who doesn't want a long sleep full of relaxation? Below is a list of reasons why bamboo pillows are so popular. 
Absorbs Moisture
Bamboo is a natural fibre that is very absorbent compared to other natural fibres. It is not only soft on sensitive skin, but also lasts through many washes. Furthermore, the memory foam filling inside the pillow is also very soft in texture and it lets in more air to keep your pillow cool. 
Highly Adjustable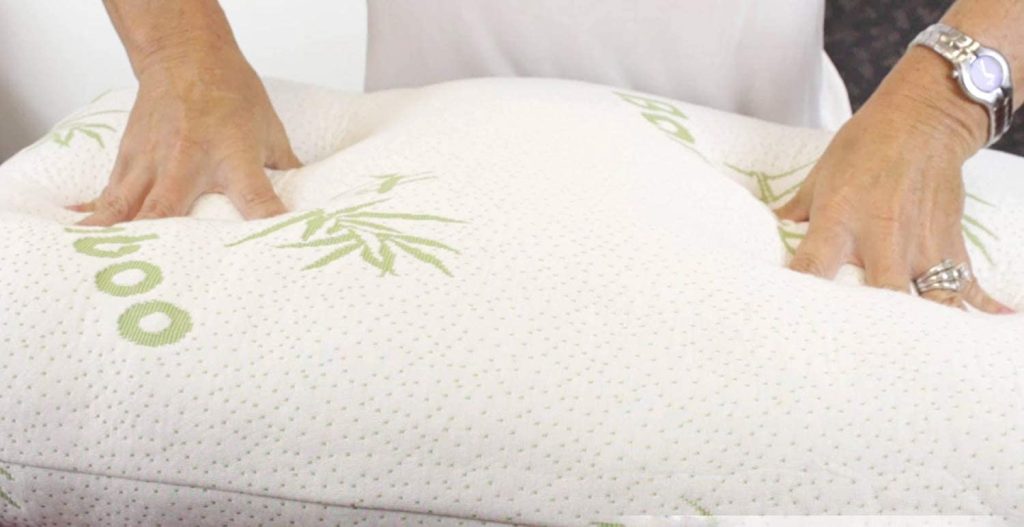 Bamboo pillows are high in demand because of their versatile. These pillows come with shredded memory foam filling that not only provides great comfort and pressure point relief, but also allows you to customise the amount of filling you prefer in your pillow. 
Travel Friendly
Because of their excellent compressibility, bamboo pillows are a perfect option for travellers. While travelling, you can easily bring a pillow of your prefered size and compress it to fit it in your bag. Bamboo pillows don't take up additional space as the memory foam can easily be flattened, which allows you to pack the whole pillow in a tight roll. 
All of the above reasons make a bamboo pillow a great gift too!
Frequently Asked Questions 
Given below are answers to some frequently asked questions related to bamboo pillows. 
How Often Should I Wash My Bamboo Pillow?
The bamboo cover of bamboo pillows should be washed at least once every six months in their 2-3 year lifespan. This will keep any allergens from sticking to the surface and will also rejuvenate your pillow from the inside.
Do Bamboo Pillows Go Flat? 
Memory foam has a unique property that makes it ideal for moulding and shaping, but if not given the chance to decompress, it might lose some of that quality and become flatter. 
Why Does My New Bamboo Pillow Smell Bad? 
You may notice an unpleasant odour in your new bamboo pillow once you open it. That is because of the off-gassing of the polyurethane chemical, which is a byproduct of the production process. The smell goes away on its own after a few hours. 
Read also: Do latex pillows smell?